Sunday, December 1, 2019 at 4pm - Willoughby Hills, OH
Magnum Mysterium


St. Noel Church
35200 Chardon Road in Willoughby Hills, Ohio
(440) 946-0887 for information
Free-will offering; free off-street parking


Duo Mignarda, Cleveland's resident early music specialists, return to St. Noel to perform a program titled, Magnum Mysterium, with music for solo voice and lute from their two critically-acclaimed CDs of music for Advent and Christmastide. The Duo's program will feature a selection of seasonal sacred music from the 15th-17th centuries, with settings of the moving Christmas motet, O Magnum Mysterium, as well as familiar and traditional English, Irish, French, and German carols performed with transporting historical sensitivity, and with the Duo's signature warmth.

Quotes from Audiences, Colleagues & Critics

"I have always admired Stewart's beautiful voice but I thought she surpassed herself in this repertoire which obviously means a great deal to her. She captures the intense religious fervour of the music simply by letting the words speak for themselves with subtle variations in dynamics, ranging from an introspective pianissimo in the reflective pieces to some ecstatic alleluias in the more joyful ones."

Stewart's ornamentation of the vocal line in Victoria's Ne timeas, Maria is exquisite and her interpretation brings out the intensity of religious devotion, but also subdued passion inherent in [the] poetry."
- Monica Hall, Lute News (UK)

"Congratulations on a really exquisite rendering of your selection from 'Pilgrimes Solace'! The lovely open quality of Donna's voice I find really endearing, and so suitable for giving us the 'inner passion' of these marvelous texts. And such intelligence shines behind every word."
- Anthony Rooley, Consort of Musicke

"I believe that you and Donna form the pre-eminent lute song duo of our time."

"I was transfixed by the clarity and musicality of the lute...and of course Donna's voice was absolutely beautiful. I can see why your CDs are being met with critical acclaim. I was enraptured."
- Gregory Heislman, Director of Music at the Cathedral of St. John the Evangelist (Cleveland, Ohio)

"Your concert was revelatory in several ways, especially as it challenged our ears and hearts to enter a realm difficult to access these days, where subtlety and elegance trump flash and flamboyance, and content, rather than effect, is primary." - Rev. Cullie Mowers, Rector, St. Thomas Episcopal Church (Slaterville Springs, NY)

About Mignarda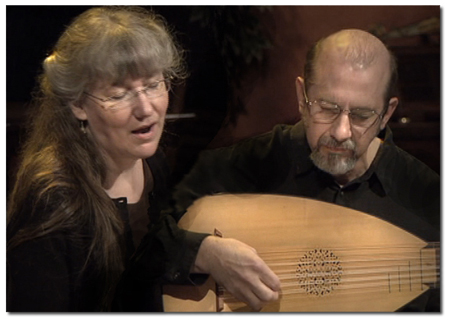 Cleveland natives Donna Stewart & Ron Andrico, better known as Duo Mignarda, are well-known to Cleveland audiences and one of the few professional lute song duos in the US. Dedicated to music of the 16th century, Mignarda's engaging approach has set a new standard for interpretation, authenticity and musicianship, offering thoughtful programming illuminating the vibrant mingling of renaissance music and poetry.
Noted for awakening modern audiences to an appreciation for historical music, their work encompasses concertizing, teaching and recording, with twelve critically-acclaimed CDs. Mignarda's publications include a series of 12 music editions, scholarly articles, reviews and the internationally-popular blog, Unquiet Thoughts. The couple met in a schola providing liturgical music for the Latin Tridentine Mass, and they continue their dedication to historical sacred and secular music. Now in their 16th year as a duo, they have travelled tens of thousands of miles to share this music with audiences across the U.S., and they make their home in Cleveland Heights.
The Lute Society (UK) has called their CD La Rota Fortuna "essential listening", and Au pres de vous their "lute disk of the year". Divine Amarillis, their recording of French music from the early 17th century, was awarded first place for Best Classical/Voice Album in the 2009 JPF awards. Their recordings have been featured on the internationally syndicated Millennium of Music, hosted by Robert Aubry Davis, and all are included among CD Baby's top 40 best-selling classical CDs. Mignarda was featured in a one-hour live concert produced by Binghamton, NY PBS affiliate WSKG TV, which has been rebroadcast frequently and is available from PBS.org on DVD.
All site content - images, text, sound, PDF, & video - ©2003-2022 Mignarda & Mignarda Editions, all rights reserved.

Web site by Donna Stewart, Eglantyne Design