Saturday, June 17th, 2017 at 7:30 pm - Cleveland, OH
POUR UN PLAISIR
Chansons for a summer evening

with special guest Malina Rauschenfels, viola da gamba

Tregoning & Company
1300 West 78th Street in Cleveland, Ohio
in the Gordon Square Arts District
admission: $15 at the door


Join internationally renowned Duo Mignarda as they celebrate the fleeting pleasures of summer with chansons for a summer evening.

Saturday, June 17th at 7:30pm, at the Tregoning & Company Art Galleries, duo Mignarda, together with Burning River Baroque's Malina Rauschenfels on viola da gamba will present a rare selection of romantic, rustic and heartrending songs of 16th and early 17th century France.

The concert features French airs and instrumental music circa 1520 - 1620, with surprisingly modern-sounding chansons by Janequin, Crequillion, Van Wilder, Guédron, Boësset and Moulinié. Featuring the beguiling combination of voice, lute, and viol, the program will offer rare and appealing chansons ranging from the sublimely delicate to the downright bawdy.

Treat yourself to an evening of music, romance, and art, in the beautiful surroundings of Gordon Square's Tregoning & Company Art Galleries.

Quotes from Audiences, Colleagues & Critics
"Congratulations on a really exquisite rendering of your selection from 'Pilgrimes Solace'! The lovely open quality of Donna's voice I find really endearing, and so suitable for giving us the 'inner passion' of these marvelous texts. And such intelligence shines behind every word." - Anthony Rooley, Consort of Musicke
"I believe that you and Donna form the pre-eminent lute song duo of our time."
"I was transfixed by the clarity and musicality of the lute...and of course Donna's voice was absolutely beautiful. I can see why your CDs are being met with critical acclaim. I was enraptured."
"My other band crush this year is Mignarda. What can I say? Ron Andrico and Donna Stewart have captured my heart. The depth and emotion in their playing is nearly overwhelming. You need to hear this. It will change you... "
"Your concert was revelatory in several ways, especially as it challenged our ears and hearts to enter a realm difficult to access these days, where subtlety and elegance trump flash and flamboyance, and content, rather than effect, is primary."
"Your music was very moving as were the two of you interacting musically & otherwise. Entirely appropriate to the gentle nature of the music itself, but also a tribute to the wonderful sensitivity which you bring to it."

About Mignarda
Cleveland natives Donna Stewart & Ron Andrico, better known as duo Mignarda, are well-known to Cleveland audiences and one of the few professional lute song duos in the US. Dedicated to music of the 16th century, Mignarda's engaging approach has set a new standard for interpretation, authenticity and musicianship. Mignarda performs throughout the US with an international audience for their twelve critically-acclaimed recordings and a growing series of editions of historical music for voice and lute. Mignarda's CD, Divine Amarillis, received the 2009 JPF Best Classical Vocal Album Award, and the duo maintain an active schedule in touring, recording and teaching. In addition to their live performances, their music has gained international exposure through radio and television broadcasts across the US.
Mignarda specialize in performing music that resides in the grey zone between folk and art music, with interpretations that follow the renaissance ideal of 'moving the passions' of the listener. They have recently celebrated the release of their 11th CD, Magnum Mysterium, and are hard at work on the next one, scheduled for an Autumn 2017 release.

full bios
100-word bio, links, & high resolution photos


About Malina Rauschenfels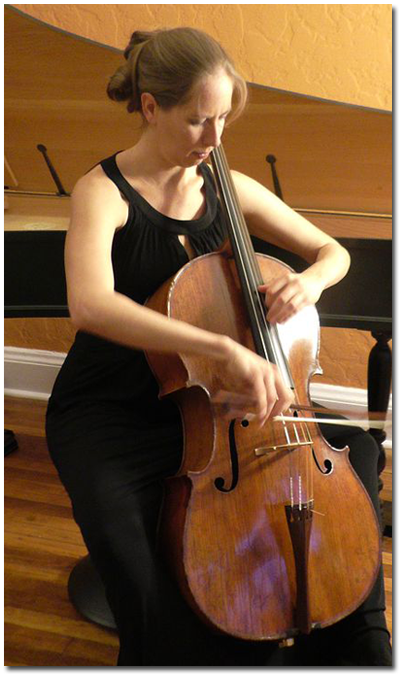 Malina Rauschenfels is a vocalist, composer and multi-instrumentalist transplanted to Cleveland after 11 years in New York City. Praised by the New York Times for her "compelling" performances and as "remarkable" by the Village Voice, she has also been commended by clevelandclassical.com for her "exceptional vocal range, strong acting abilities, gripping theatricality, and commanding gestures, both musical and physical."
Equally comfortable with early music and contemporary music, she has recorded with The Newberry Consort, Duo Mignarda, Quire Cleveland, Marble Sanctuary Choir and Toby Twining Music. Additionally she performs with El Fuego, North Carolina Baroque Orchestra, Contrapunctus, and Trinity Chamber Singers.
In Malina's NYC incarnation, she participated in many adventures. Malina performed a work for cellist with two bows by Kurtag with Alarm Will Sound, debuted as a dancing violinist in an international dance festival with Jody Oberfelder Projects, and premiered her upside-down flute duet at the Bang on a Can Festival. While doing her Masters in Cello Performance at Juilliard, Malina performed Davidovsky's Divertimento for Cello and Orchestra with the Juilliard Orchestra under Reinbert de Leeuw and also played a solo recital in Carnegie's Weill Hall. She majored in Composition and Cello at Eastman School of Music.
Malina is co-founder and executive director of Cleveland's Burning River Baroque. She teaches violin, viola, cello, flute and piano in her home in Cleveland Heights, travels frequently for performances, and has just released her first solo CD.
Further information at malinarauschenfels.com