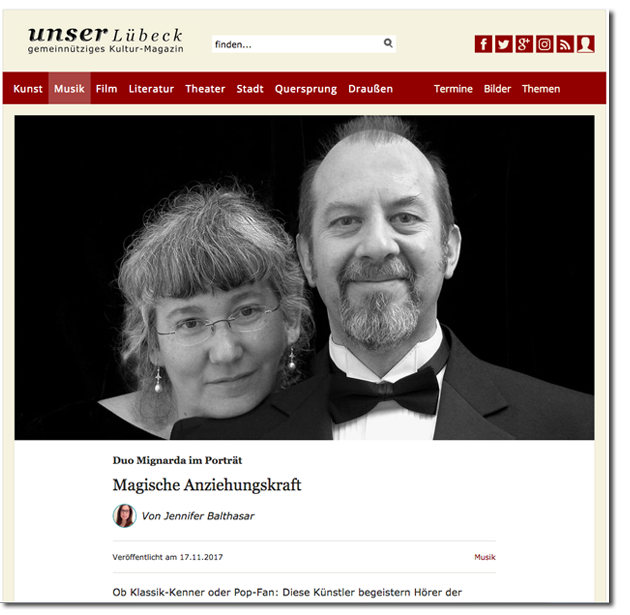 PROFILE: Magical Attraction
Duo Mignarda – A Portrait
By Jennifer Balthasar, Unser Lübeck Gemeinnütziges Kultur-Magazin
(English translation by the author, used by permission)
Original German text
Whether connoisseur of classical music or pop music fan: These artists delight and enthrall listeners of all kinds of music and experts alike. In Germany they have been considered an insider tip until now, but this is just about to change. Singer Donna Stewart and lutenist Ron Andrico – better known as Duo Mignarda from Cleveland, Ohio – convince with authentic interpretations from the Renaissance based on extensive research. Apart from John Dowland's famous works, Mignarda's repertoire involves French and Italian love songs from the 16th century as well as church music in Latin and German. Many of their eleven albums were recorded live in churches. It's the resonance and the spacious silence of these places that best features the intimate nature of their music and its magical appeal. You feel immersed in this lyrical atmosphere and sense the passion, melancholy, hope and despair.
Video: "Flow my tears" (by John Dowland)
Stewart's vocal performance is impressive. The sound of her voice is gentle, elegant and sensitive, of a pure clarity and naturalness, yet powerful, dynamic and expressive with a distinctively warm timbre. Andrico's delicate lute-playing not only supports the vocal performance, they both blend into a virtuoso rhythmic unity. The duo accomplishes a profound, vibrant and emotionally moving interpretation of the lyrics and the inherent feelings. Already their debut "Divine Amarillis", released in 2006, won the JPF Award as the best classical/vocal album.
Video: "Mignonne, allons voir si la rose" (from "Divine Amarillis")
The fact that Mignarda interact so closely, their parts merging seamlessly, is characteristic for their style. Stewart and Andrico, who as versed singers have been contributing to a Latin Mass for many years, understand their music as polyphony – as a collaboration of distinct voices, in which the singer takes the upper cantus line, while the lutenist covers all lower parts.
In the Renaissance this way of arranging choral music for lute and voice had been common practice, giving prominence to the message of the texts. Guillaume Dufay's "Vergine bella", which will be featured on the forthcoming CD "Mater Dolorosa", not only reveals adoration of the Virgin Mary. According to Francesco Petrarca's text it's also a deeply touching request for help filled with dedication and devotion. Among experts Mignarda's interpretation is considered the best version due to their pure and elegant style of rendition as well as the clear diction.
Video: "Vergine bella" (by Guillaume Dufay)
In general, choral music plays an important role in the duo's career. "I had been singing in choirs my whole life", says Stewart. "Then Ron showed up in rehearsal one day." Their first concert came a few months later. Andrico, a multi-instrumentalist with a degree in composition, had already dedicated himself to lute music at that time. "I heard a lute and it was all over at that point. You can have your own mini orchestra on your lap", he recalls, still fascinated.
For all of Mignarda's projects Andrico creates his own arrangements for lute and voice based on the original documents. The Christmas album "Magnum Mysterium", which was released last year and also contains three pieces from Germany, is a case in point. Smoothly, the intricately interwoven strands flow together. The sound of the album is calm and clear, sometimes elegiac, sometimes angelic, but always contemplative and full of warmth, partly accompanied by harp. The German "Global Music Magazine" wrote about Stewart's singing: "She knows how to captivate the listener with her voice."
Video: Album "Magnum Mysterium"
For Mignarda, historically informed performance is so fundamental that their research goes beyond the study of original documents and the working methods of that time's artists. Living under the harsh realistic conditions prevailing at the time their music comes from, sensing what people had been feeling then – this is part of Mignarda's notion of authenticity as well. So they secluded themselves from society for a while, living in a log cabin off the grid. It's the only way to understand the life situation of the people and live the music, as if it was composed in this very moment, explain the artists.
Their concept did work out. Ron Andrico and Donna Stewart allow music and poetry to speak on their own terms. They give them the space they need to unfold with grace and dignity. A knowledgeable fan wrote to them: "I think that you must know, as music historians, that in the Renaissance certain exceptional musicians were dubbed as 'divine'. Very few were allowed that title as it was deemed that they channeled the very essence of the muse. I do believe that you qualify." In other words: Mignarda give their music a soul. It's artists like these who will go down in history as masters of their craft.
---
Mignarda, based in Cleveland and in rural upstate New York, is available for concerts, house concerts, lecture-recitals, or in a format tailored to meet your needs. Please contact us for details & terms.